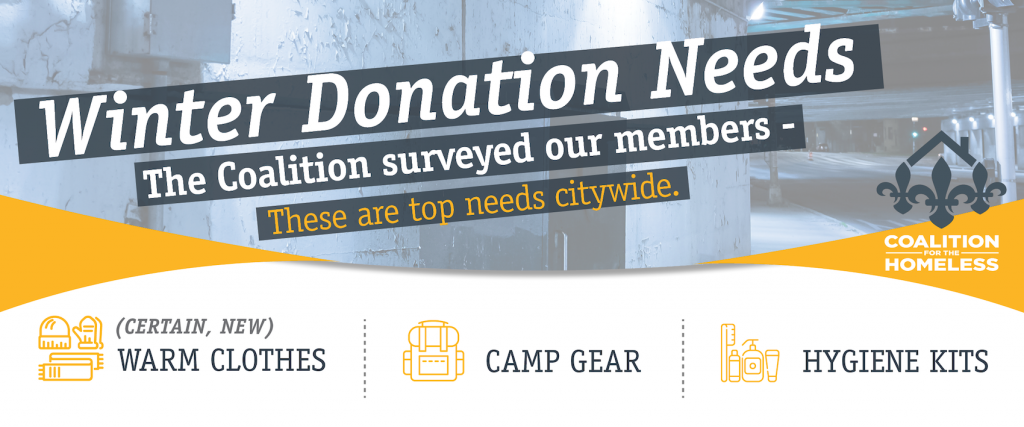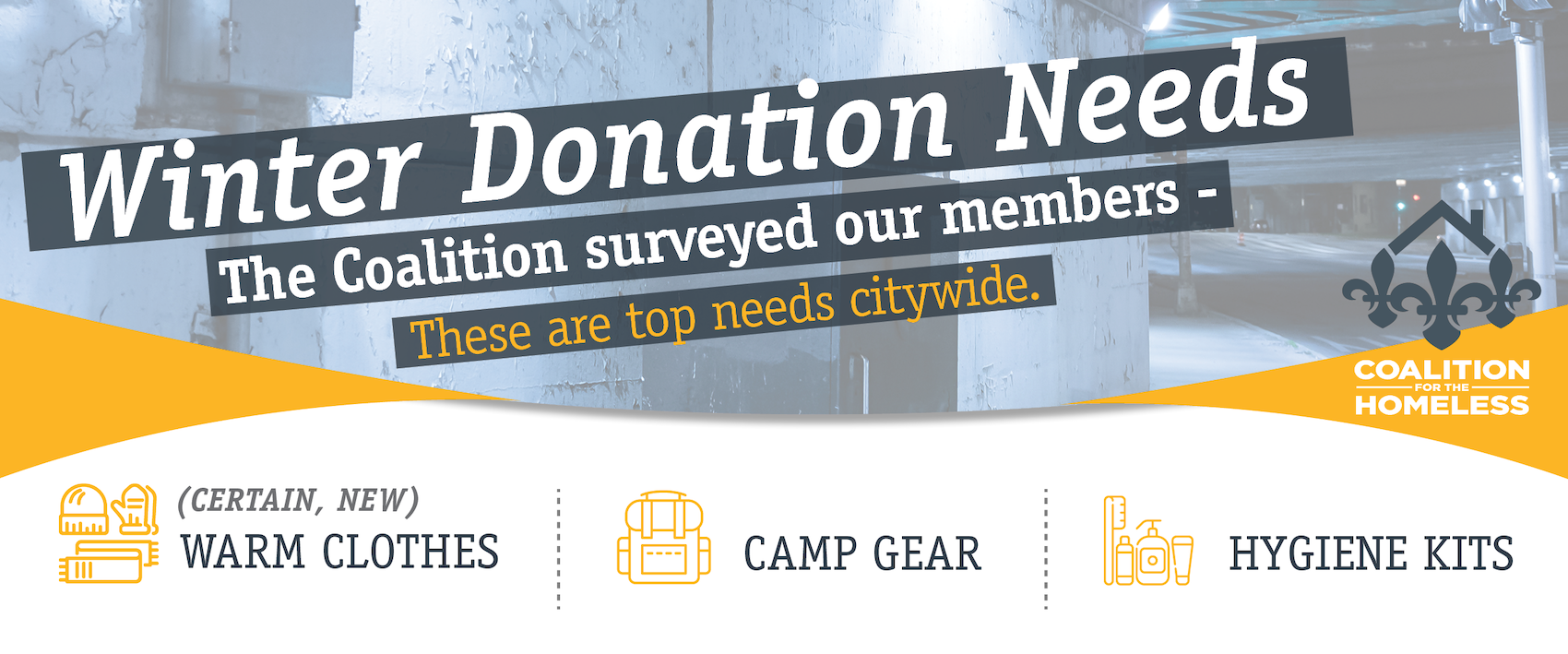 Every winter, people reach out to the Coalition for the Homeless to offer donations and support for people experiencing homelessness during our coldest months. And while we frequently refer Louisvillians back to partner agencies, this year, we wanted to provide a more helpful guide.
The truth is that these organizations—nonprofits, grassroots outreach groups, and others who serve people living on the streets and in shelters—often have very specific needs for the people they serve. They know which specific supplies they need, and how much space they have to store things, and when they will need volunteers. So we put together this list, with the goal of guiding Louisvillians eager to help the people in our community in the ways that are most critical this winter.

In addition to these volunteer opportunities and items needed, you can also help us to advocate for people living in poverty and experiencing homelessness. To get on our email list with these opportunities, click here.
The Coalition's Single Point of Entry office also needs these items (new only please) which can be dropped off at 1300 S. Fourth St #250 during regular business hours:
Gloves
Hats
Scarves
Hand and food warmers
Fire extinguishers 
To make a gift to the Coalition, click here.
If you are a partner of the Coalition for the Homeless and would like to be added to this list, please email your information to Melissa Raley at mraley@louhomeless.org.
---

Items Needed: Winter coats, clothes, and shoes for our foster youth (all genders, ages 18-21)

Contact info for donating items: Alan Gomez agomez@boyshaven.org or esanchez@boyshaven.org,  502-819-3391
Contact info for volunteering: Alan Gomez – agomez@boyshaven.org

Coalition Supporting Young Adults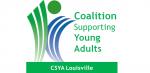 Items Needed: soap, socks, coats, feminine hygiene products, disinfectant wipes, deodorant

Contact info for donating items: Darryl Young, Jr. at dyoung@csyalouisville.org or 502-290-6121 ext 471
Volunteer opportunities: Helping organize donation inventory

Contact info for volunteering: Darryl Young, Jr. at dyoung@csyalouisville.org or 502-290-6121 ext 471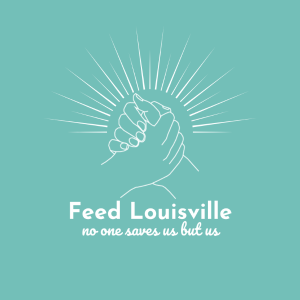 Feed Louisville was founded at the beginning of the pandemic by Chef Rhona Kamar of Prana and Ramsi's Cafe on the World and Donny Greene, a seasoned outreach volunteer who has been working in solidarity with people experiencing homelessness in our community for years.
For current needs, see https://www.feedlouisville.org/volunteer.html.


Items Needed: pantry items (non-perishable food and snacks), laundry detergent, paper towels, toilet paper, cleaning supplies, feminine hygiene products, diapers (all sizes but mainly 3, 4, 5, 3t-4t), school supplies
Contact info for donating items: Madison Wolf: MWolf@FamilyScholarHouse.org
Volunteer opportunities: virtual career opportunities (career conversations, resume review); sorting and organizing Linda's closet (professional clothing closet); hosting a donation drive; writing encouragement cards to our scholars

Contact info for volunteering: Madison Wolf: MWolf@FamilyScholarHouse.org
Items Needed: Kitchen Supplies – pots, pans, and cooking utensils
Contact info for donating items: Joe Hamilton: jhamilton@homeoftheinnocents.org, (502) 596-1323
Volunteer opportunities: We can always use more volunteers for our Life Skills classes

Contact info for volunteering: Joe Hamilton, jhamilton@homeoftheinnocents.org, (502) 596-1323

Items Needed: New hats and gloves for adults. New socks and underwear for adults. All sizes. Rain ponchos. Travel size umbrellas.

Contact info for donating items: Lara Hurt, lhurt@houseofruth.net

NuLease Medical Solutions/NuLease Outreach

Items Needed: blankets, sleeping bags, tarps, tents, flashlights, batteries, hand/feet warmers, thermal socks, sterno, propane, gloves, solar-powered battery packs, snack packs, hygiene products, baby wipes, foot powder, backpacks
Contact info for donating items: Tiny Herron, tiny.herron@nulease.com, 502-338-1025
Volunteer opportunities: Holiday meal prep
Contact info for volunteering: Tiny Herron, tiny.herron@nulease.com, 502-338-1025
Phoenix Health Center of Family Health Centers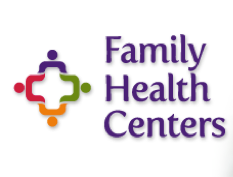 Items Needed: Toiletries, sleeping bags, backpacks, socks, ponchos, gloves, winter hats/beanies, sweatshirts / sweatpants (new), underwear (new), blankets

Contact info for donating items: Andy Patterson, apatterson@fhclouisville.org, 502-569-1670
Volunteer opportunities: NA

Contact info for volunteering: N/A
Re:Center Ministries

Items Needed: Winter hats, gloves, socks (men's and women's), underwear (men's and women's), blankets, coats, hygiene products

Contact info for donating items: Becca Miller, becca@recenterministries.org, 502.584.6543 ext. 101
Volunteer opportunities: donation drives, meal prep/donation
Contact info for volunteering: Becca Miller, becca@recenterministries.org, 502.584.6543 ext. 101
Items Needed: toiletries, all cleaning supplies, hand sanitizer, masks

Contact info for donating items: Mona Page, rhondahouse710@att.net
Volunteer opportunities: Check website for time-specific volunteer opportunities: www.rhondasanotherchance.org

Contact info for volunteering: Mona Page, rhondahouse710@att.net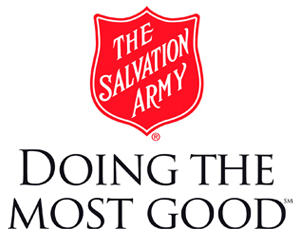 Items Needed: coats for men and women (particularly XL, 2x, 3x, 4x),  hoodies or sweatshirts, new underwear (men's and women's)
Contact info for donating items: debra.bellis@uss.salvationarmy.org, 671-4926
Volunteer opportunities: serving in the kitchen, helping with Angel Tree, Red Kettle bell ringing
Contact info for volunteering: jeremy.warf@uss.salvationarmy.org, 671-4920
Items Needed: men's/women's socks, men's/women's rubber boots, tarps, tents
Contact info for donating items: Andrea Keith, akeith@sevencounties.org, 502-802-4257
Contact info for volunteering: Andrea Keith, akeith@sevencounties.org, 502-802-4257
Society of St. Vincent de Paul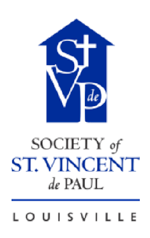 Items Needed: Twin/Single size air mattress, blankets, pillows, twin sized sheets, toiletries, hoodies, tennis shoes (size 10 and larger), towels, socks, men's underwear (new), gloves for all ages, hats for all ages but especially men's winter hats, cleaning supplies

Contact info for donating items: Rich Flaherty – rflaherty@svdplou.org
Volunteer opportunities: Serving Lunch (Noon) or Dinner (5pm) at the Open Hand Kitchen, Tutoring (M-T 4:00 – 6:00), Food Pantry (Tuesday and Thursday from 9:00 – 12:00)
Contact info for volunteering: Donna Young – dyoung@svdplou.org
S.O.U.L. Clinic of Kentuckiana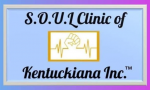 Items Needed: TARC Passes, toiletries, laundry detergent, back packs, hand sanitizer, prepackaged snacks, socks.

Contact info for donating items: dustin.cox@soulclinicofkentuckiana.org
Volunteer opportunities: multiple opportunities available at: https://www.soulclinicofkentuckiana.org/volunteer

Contact info for volunteering: dustin.cox@soulclinicofkentuckiana.org
St. John Center for Homeless Men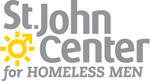 Items Needed: new white crew men's socks, new hats and gloves, new men's underwear

Contact info for donating items: Jim Fulkerson, jfulkerson@stjohncenter.org, 502-398-3505
Volunteer opportunities: Two-hour weekly or bi-weekly volunteers shifts in the shelter
Contact info for volunteering: Shannon Frey, sfrey@stjohncenter.org, 502-901-5851
Sweet Evening Breeze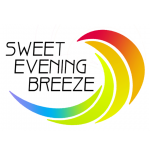 Items Needed: Clothing, toiletries, socks, jackets,

Contact info for donating items: Glenn Martin / glenn.martin@sweeteveningbreeze.org / 502-690-4003
Contact info for volunteering: Glenn Martin / glenn.martin@sweeteveningbreeze.org / 502-690-4003
Uniting Partners for Women and Children (UP)
Items Needed: backpacks, small fleece blankets (easy to transport), hoodies, leggings

Contact info for donating items: Ana Paliza-Brown, ana@uplouisville.org, 502.384.0001
Volunteer opportunities: in shelter assisting with mail, phones, and supporting staff with supplies and individual needs

Contact info for volunteering: Ana Paliza-Brown, ana@uplouisville.org, 502.384.0001
Volunteers of America Mid-States
Items Needed: coats (all sizes) twin bedding, towels, pillows, diapers, wipes, laundry pods,

Contact info for donating items: Tamara Reif – tamarar@voamid.org

Volunteer opportunities: wrapping at Christmas time

Contact info for volunteering: Tamara Reif – tamarar@voamid.org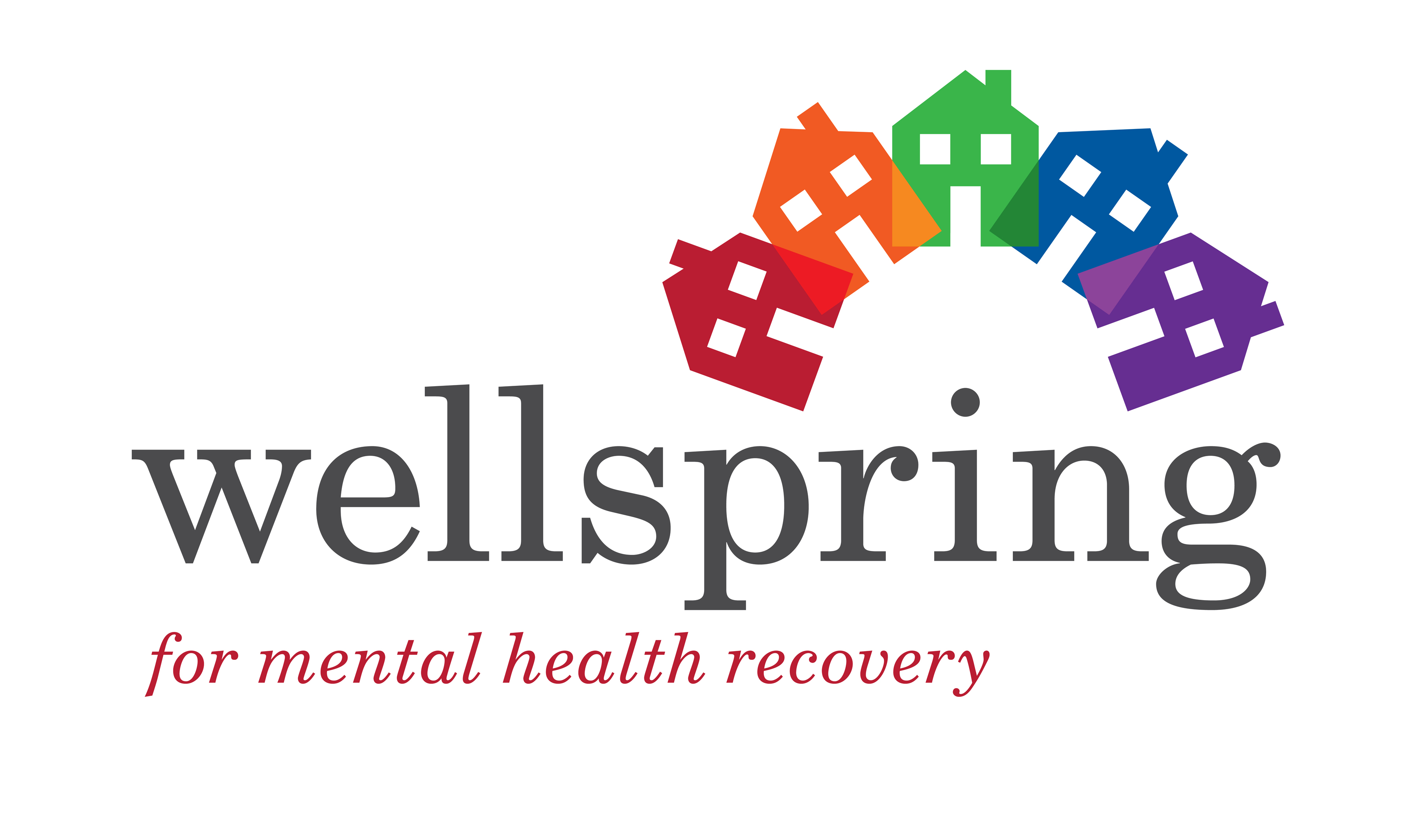 Items Needed: Adult-sized Hats, Socks, Gloves, NEW underwear (men's and women's), gift cards to Target, Kroger or Walgreens ($5 or $10 increments preferred)

Contact info for donating items: Kim Johnson / Kim.Johnson@WellspringKY.org / 502.753.1453
Volunteer opportunities: Assembling gifts for distribution or outdoor landscaping
Contact info for volunteering: Kim Johnson / Kim.Johnson@WellspringKY.org / 502.753.1453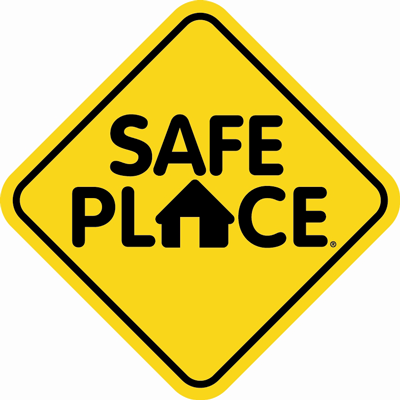 Items Needed: new or gently used winter clothing for young men and women (age 18 to 24)

Contact info for donating items: 502.635.5233
Volunteer opportunities: Serve as a mentor and positive role model for young people with incarcerated parents.

Contact info for volunteering: Brittany Leon – ynowvolunteers@ymcalouisville.org – 502.635.4393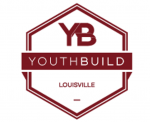 Items Needed: Personal care kits, gloves, hats, blankets (new), new shelves for supply storage

Contact info for donating items: Amber Love, alove@yblky.org, (502) 290-6121
Volunteer opportunities: Organizing donations, developing furniture storage
Contact info for volunteering: Evie Schuster, volunteer@yblky.org, (502) 290-6121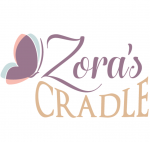 Items Needed: infant formula, cleaning supplies, masks, breast pumps, printer paper

Contact info for donating items: Shemika Whiteside, shemika.whiteside@zorascradle.org, 502-830-9460
Volunteer opportunities: We would love volunteers that can assist with organizing our milk bank (i.e. tracking inventory, labeling items)

Contact info for volunteering: Shemika Whiteside, shemika.whiteside@zorascradle.org, 502-830-9460