The Coalition for the Homeless was founded in 1986 as the result of a task force the city assembled to mount a response to a stark reality: unhoused Louisvillians were dying on our streets. Thirty-seven years later, Louisville is facing acute street homelessness in a post-COVID landscape. Our shelters are full, and our city is short 31,000 units of affordable rental housing for the poorest Louisville families.
So what should our city do to address this pressing crisis, compounded by decades of federal inaction? How can we be sure that our efforts are strategic, evidence-based, and results-driven—and actually meet the needs of our neighbors and neighborhoods alike?
Scroll down to read our summary recommendations for our new city government's funding priorities, and mark your calendar for Tuesday, February 28, for our public education meeting and press event to go over the needs and recommendations in detail. Email Catherine to get on our email list for this event.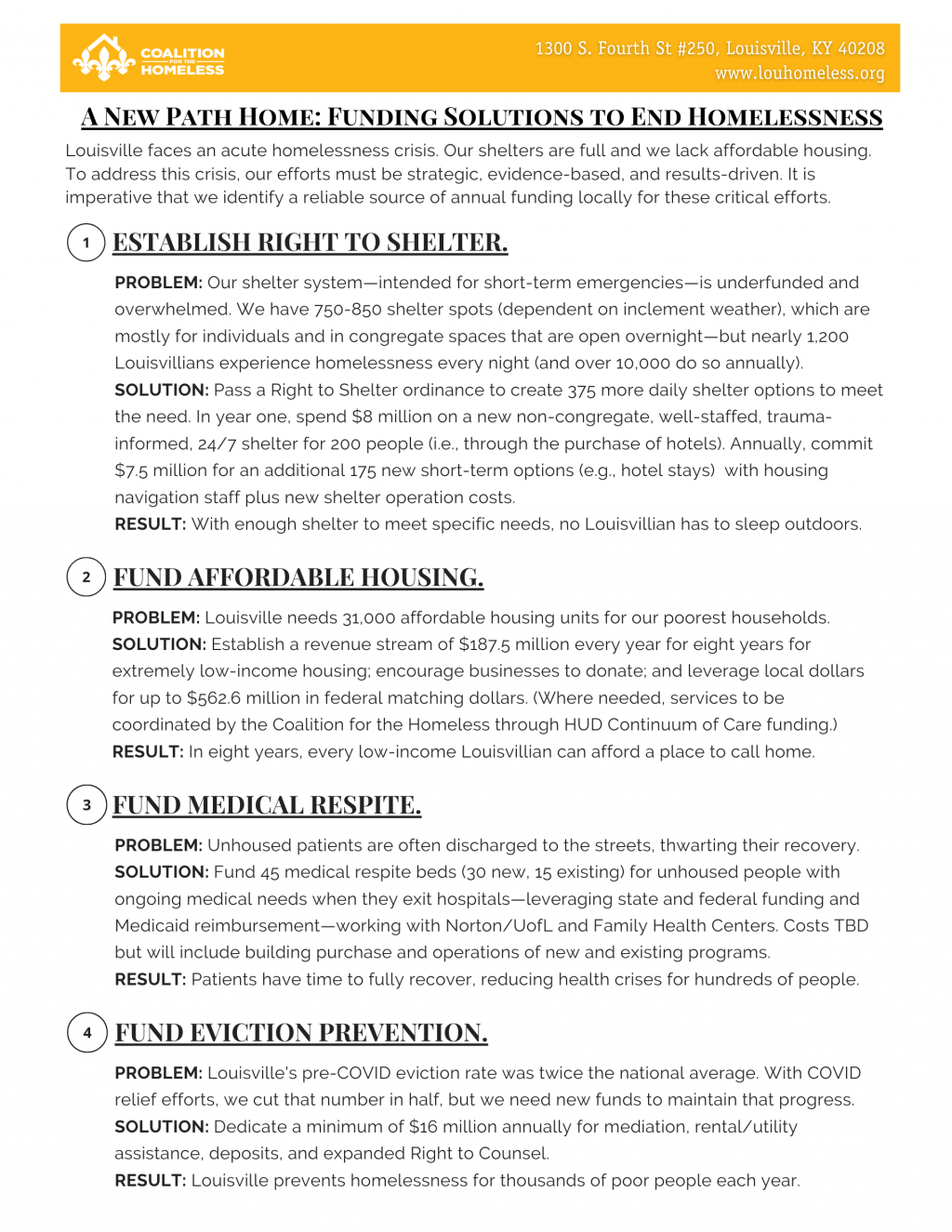 The problem of homelessness in Louisville is one we see in cities across the country, as it was created by a lack of sufficient federal funding.
But we also see Metro Council's bold investment of ARP dollars and Mayor-Elect Greenberg's goal of building 15,000 units of affordable housing in his first term. We believe we can work together to realize a vision where we have enough emergency shelter, enough affordable housing, enough medical respite, and enough eviction prevention to meet the needs of every Louisvillian.
With a collaborative, evidence-based approach, we can change the lives of tens of thousands of Louisvillians facing homelessness.
Please contact Natalie at nharris@louhomeless.org, George at geklund@louhomeless.org, or Catherine at cmcgeeney@louhomeless.org with any questions or for more detailed information regarding these estimates or the needs identified above.