Sign up for our advocacy alerts by filling out the form here.

Our Vision
A critical part of the Coalition's mission is to end homelessness through advocacy.
We believe everyone deserves a safe place to call home, and we envision a city where everyone can afford that: a city where no one has to live or die on our streets. Will you join us in advocating for this vision?
Together, we can develop, support, and pass good policy that improves the lives of people who experience homelessness and housing instability.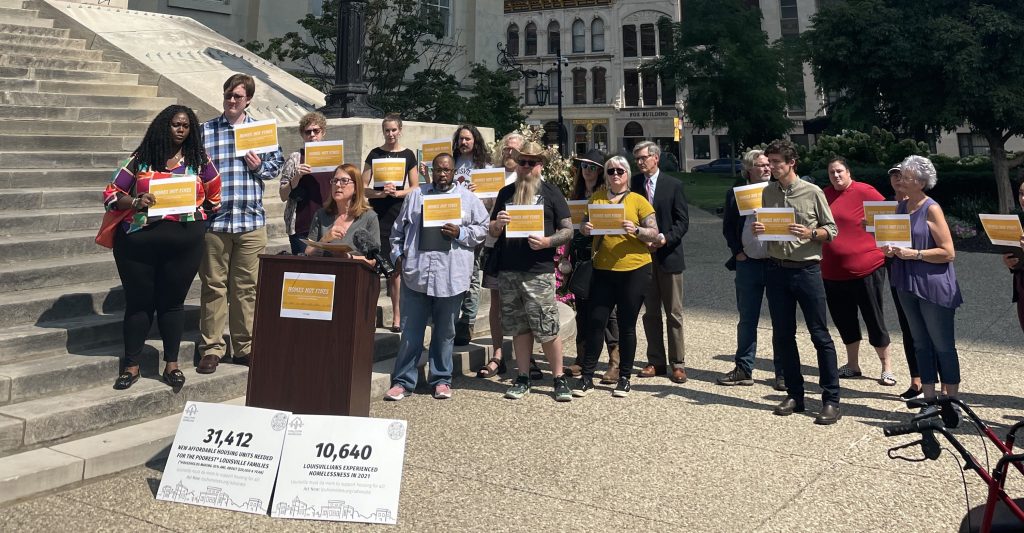 What You Can Do Now: 2023
Tell Metro Council to fund solutions to end homelessness by sending an email here. To learn more, read A New Path Home—our series of research-based, client-centered, data-driven recommendations for city government funding.
Sign up for our advocacy emails here to stay in the loop.
After you've done that, here are some great every day actions you can take.
2022 State Advocacy Summary
Several bills were filed in the 2022 Kentucky General Assembly, and thanks to your help, representatives across the state of Kentucky heard from constituents about the importance of affordable housing for Kentuckians. HB 197 got very close to passing, but unfortunately we ran out of time in the session. Below is a summary of the bills from last session. Stay tuned for bills we're prioritizing for the 2023 General Assembly next January.
HB 197: Improving ID accessibility. State-issued IDs are an essential key to getting access to housing, medication, employment, and interacting with the world. For someone without a fixed address, getting an ID is incredibly difficult. This bill aims to update our current laws to streamline the process for providers, lower the cost of an ID for those that are homeless, allow youth to get an ID without parental consent, and allow people to renew a driver's license without a fixed address.


HB 86: Establish a state affordable housing tax credit. HB 86 creates the Kentucky Affordable Housing Credit to help fund affordable housing development in the Commonwealth. Twenty other states have established such credit and have seen the number of housing units produced each year double.


SB 21: Truth in renting. Many tenants face unnecessary barriers as they apply for apartments, which leaves them stuck in a cycle of homelessness. To reduce the period of homelessness and help low-income families get back into housing, we must reform the rental application screening process to ensure it is both fair and transparent for Kentuckians.


HB 159: Eviction expungement. Once an eviction is filed, it remains on a tenant's record for the rest of their life, and landlords can deny housing to someone for no reason other than that prior eviction. We should not let a prior financial crisis impede someone's future ability to have a safe place to call home. HB 159 allows for automatic eviction expungement.


HB 160: Eviction set-out reform. An eviction set-out is a dehumanizing experience for tenants—one that we can and must prevent. Kentucky is one of only nine states with no property protection for people being forcibly removed from their homes. HB 160 requires landlords to secure and store property for 21 days after an eviction to allow for a family to move out with dignity and maintain their belongings.


HB 131: Rent control ordinances in West End Louisville. Here in Louisville, we are short 31,000 units of affordable housing for the poorest tenants, and many Louisvillians face being priced out of their West End homes as a result of steep rent hikes. HB 131 would allow Louisville Metro government to limit unreasonable rent hikes within defined areas in the West End, allowing low-income Louisvillians to stay in their homes.
2021 State Advocacy Priorities
In 2021, the Coalition for the Homeless focused our efforts on these areas, which we believed could make a strong impact on improving the lives of people who are poor or experiencing homelessness in a short period of time.
2021 State Legislation
Criminalization of apartment disputes (SB 11). The Coalition OPPOSED Senate Bill 11, which would criminalize any damages that a landlord claims a tenant has caused in a rental property, with the potential for felony charges. Such damage is already illegal as a civil matter. This is unnecessary legislation that would have potentially life-long negative impacts for a tenant.
State affordable housing tax credit (HB 371). The Coalition SUPPORTED this state-level bill, which is modeled after the federal affordable housing tax credit. Credits could be given to build new construction or to preserve and rehabilitate existing affordable housing within a five-year time period. Credits could also be used to build affordable housing for special populations, such as seniors, substance abuse recovery renters, veterans, minors aging out of foster care, and people experiencing homelessness.
Immigration status enforcement bill (SB 1). The Coalition OPPOSED Senate Bill 1, the immigration status enforcement bill, which could add an unnecessary and time-consuming barrier requiring agencies to confirm immigration status prior to providing life-saving services to people experiencing homelessness. Agencies that serve people experiencing homelessness, including those escaping abuse at home, do not need yet another hurdle before they can serve the most vulnerable people in our community. We should not put agencies in the position to choose between their funding and carrying out their mission to serve.

Barriers to public assistance bill (HB1). The Coalition OPPOSED House Bill 1, which would create unnecessary obstacles for people who need public assistance.
Potential Future Legislation
Youth Homeless Prevention Act (bill not yet filed). This state-level act would create a grant pool for service providers to apply to, distributed by the Kentucky Interagency on Homelessness. Revenue would be generated through a percentage of licensing fees.
ID Cards and Drivers Licenses. We aim to explore whether we can make progress regarding drivers licenses for people staying at shelters, and we also want to track issues around how the REAL ID will impact people experiencing homelessness.
2021 State Advocacy Goals
Our advocacy goals for the first part of 2021 were focused on the issues and initiatives that we care about, but which require a longer time period to foster. The Coalition intends to join other groups in working toward these goals, as well as to participate in strategy and planning sessions; host education events; and speak to our members, community partners, and elected officials about these goals.
HB 39 and SB 13: Raising minimum wage. These state-level bills propose the increase of the minimum wage to $15 an hour by 2027.
Funding the Affordable Housing Trust Fund. We will continue to work with our partners to advocate for more and dedicated funding to the trust fund to provide affordable housing opportunities for Louisvillians.
Oppose criminalizing homelessness. We stay committed to working in opposition to bills and ordinances that target the homeless with punitive fines.
Eviction reform. Louisville's eviction rate is twice the national average. Reducing evictions helps to reduce homelessness. We are focusing these efforts on intervention, eviction court reform, and getting better information to people before they get an eviction on their records.
Tax lien work. We aim to reform how we treat late property taxes to ensure that people can stay in their homes and not pay huge late fees.
2020 Legislative Session
Below are additional legislative initiatives that we support past our focused priorities. We encourage the sharing of information, posts on social media, attending of events, and signing letters of support.
SB 34: Prohibit Medicaid from charging copays on services. We support this bill, which would prohibit the Department of Medicaid Services from instituting or leaping copay or other cost sharing requirements.
HB 119: Restoration of voting rights. We support this bill, which would pass a Constitutional amendment to restore voting rights to citizens who have served time to complete their sentences.
HB 123: Paid sick time. We support this bill, which would require employers to provide earned paid sick leave to employees.
HB 153: Mental health first aid. We support this bill, which would create a trust fund to pay for mental health first aid.
HB 161: Increase the felony theft threshold. We support this bill, which would increase the threshold for felony theft from $500 to $1500.
HB 176: Paid parental leave. We support this bill, which would require employers with 50 or more employees to provide 12 weeks of paid parental leave for an employee who has been employed for at least one year.
HB 179: Surprise medical billing. We support this bill, which would require insurers to pay for out-of-network providers to prevent consumers from surprise billing when they have chosen an in-network facility.
HB 222: Automatic expungement. We support this bill, which would allow for the automatic expungement of misdemeanors and certain class D felonies.
State Earned Income Tax Credit. We support this bill, which would create a state earned income tax credit that can be claimed by people who earn income through work. A state EITC would build upon the success of the federal EITC.
Child care assistance (KYA). We support this bill, which would increase state funding for child care assistance to improve access to affordable, high-quality care that allows parents to work, children to thrive, and local economies to grow.
Restrict prior authorization for MAT services. We support this bill, which would prohibit MCOs (managed care organizations) or insurers from instituting prior authorization requirements on the provision of medication assisted Treatment services for those with opioid addiction.
Juvenile justice


HB 203: Establish a minimum age of Jurisdiction. Currently Kentucky has no age of criminal responsibility. We support this bill, which would establish a minimum age of jurisdiction that could connect that child with family services and prevent the child from entering the juvenile justice system.

SB 87: Eliminating the automatic transfer to adult court. We support this bill.
Get Involved
There are many ways you can get involved and advocate for the needs of our poor and homeless neighbors.
First and foremost, please call the legislative line at 1-800-372-7181 and leave a message for your elected officials. When you call this line, you are not speaking with an elected official, but with a person who will take the message and pass it on.
The message can be quick and to the point, such as: "I urge you to support HB 213. I believe that we need to create more opportunities for young people to get access to mental health counseling."
You can follow Kentucky legislative issues and the bills we've identified above through bill watch online.
Contact your Metro Council Representative about the importance of affordable housing and supportive services for people who are poor and experiencing homelessness at www.louisvilleky.gov/metrocouncil.
To get updates from the Coalition for the Homeless, including new advocacy issues needing local support, fill out this form to join our enewsletter list.
Questions? Want to get more involved? Email George Eklund, Director of Education & Advocacy, or call him at (502) 636-9550 x1219.