Sign up for our advocacy alerts by filling out the form here.

Our Vision
A critical part of the Coalition's mission is to end homelessness through advocacy.
We believe everyone deserves a safe place to call home, and we envision a city where everyone can afford that: a city where no one has to live or die on our streets. Will you join us in advocating for this vision?
Together, we can develop, support, and pass good policy that improves the lives of people who experience homelessness and housing instability.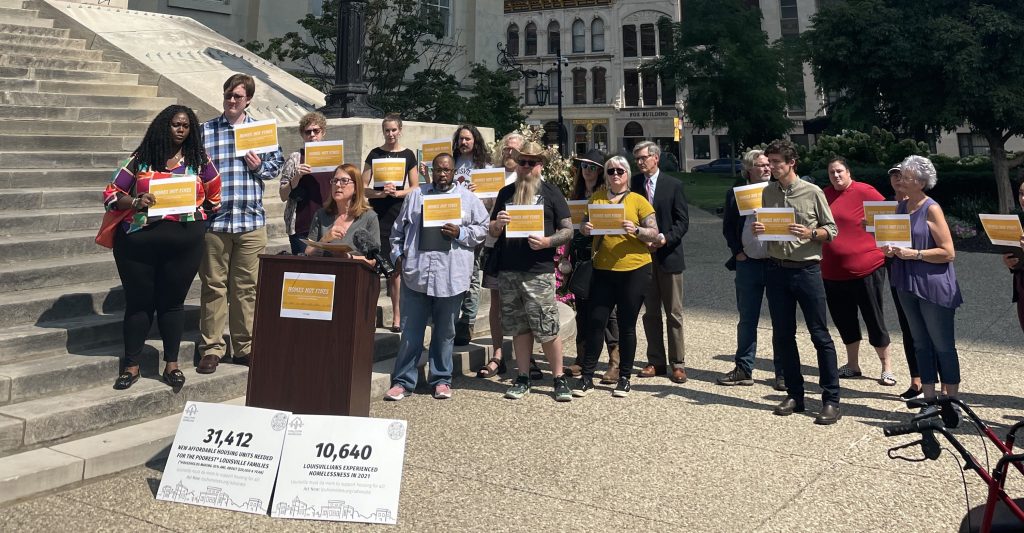 Our Priorities
Local Priorities (Metro Louisville government)
Implement A New Path Home: our research-based, client-centered recommendations for funding solutions to end homelessness
Advocate for policies developed by and for unhoused Louisvillians
Prevent homelessness through eviction prevention and address systemic inequities in Louisville's rental market
Reduce barriers to creation of affordable housing

State Priorities (Kentucky legislature)
Allocate funds for state affordable housing trust fund in the annual budget
Create a pathway for Kentuckians to expunge an eviction off their record
Address excessive rental application fees to get people into housing more quickly


What You Can Do Now: 2023
Tell Metro Council to fund solutions to end homelessness by sending an email here. To learn more, read A New Path Home—our series of research-based, client-centered recommendations for city government funding.
Sign up for our advocacy emails here to stay in the loop.
After you've done that, here are some great every day actions you can take.
Questions? Want to get more involved? Email George Eklund, Director of Education & Advocacy.