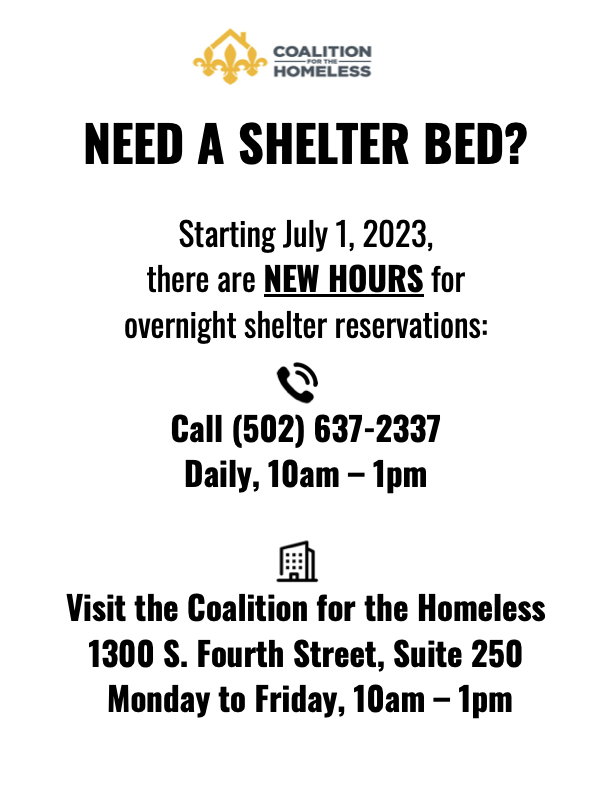 After months of consideration, the Coalition for the Homeless is announcing a change in the hours for our Coordinated Shelter Access team who manage emergency overnight shelter reservations in Louisville.
Effective Saturday, July 1, the CSA team's hours will be modified as follows:
Phone reservations (502-637-2337) can be made 10am to 1pm every day.
Walk-in reservations (1300 S. Fourth St. #250) can be made 10am to 1pm on weekdays (Monday through Friday).
Again, these hour changes will be effective on July 1. We are taking the next three weeks to communicate the change in the following ways:
We've created and printed flyers that shelters, partner agencies, churches, and case managers, and other service providers can pick up in our office in the coming weeks (or which you can print yourselves by downloading here) to hang around your organization and/or community spaces. These flyers will also be prominently placed in the Coalition's office.
We're printing new business cards with the updated CSA hours and contact info which will be ready for pick-up the week of June 26.
We're sending emails to all partner agencies and outreach workers to ensure they know about the change and can help spread the word.
Why are we making this change? Unfortunately, there is a dramatic shortage of shelter beds in Louisville. For months, the Coalition has been tracking how long it takes to run out of beds every day. If beds are claimed, it usually happens within the first hour, and beds are almost always full by 1pm. Very few new reservations are made between 1 and 4pm.
Given this, our limited staff time needs to be prioritized for helping people facing homelessness with other resources, rather than just sharing the news that shelter beds are full. As a result of these reduced hours for shelter reservations, our staff will be able to focus more on diversion case management to keep people from entering the shelter system in the first place.
We are grateful to all member shelters and agencies for their partnership and for this life-saving work. If you have any questions, feel free to check our FAQ sheet here, or email us (nharris@louhomeless.org, bscott@louhomeless.org, aclayton@louhomeless.org) directly.