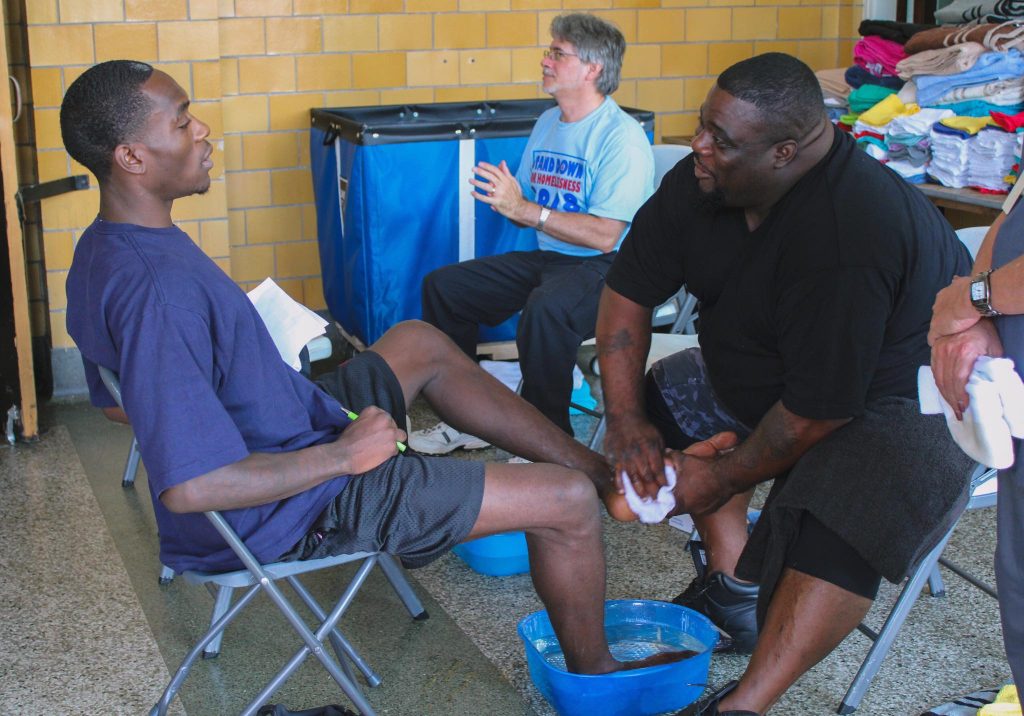 The Coalition for the Homeless, the Department of Veterans Affairs, and Metro Louisville invite you to join us at Stand Down/Project Homeless Connect on Wednesday, 10/2/19, at Salvation Army (located at the old Male High School, 911 S. Brook Street).
Stand Down/Project Homeless Connect is an annual one-day resource fair that connects 600 homeless veterans and others with services they need, including healthcare, housing assistance, official IDs, clothing, food, job resources, and more. (See photos from previous events here, here, and here.)
Again this year, we are looking for volunteers and donors to help us serve the less fortunate.
For the sixth year, Stand Down/Project Homeless Connect will include foot washing. Many homeless people have major concerns with their feet due to diabetes, frostbite, and other exposure. Foot washing helps the homeless clean their feet and provides an opportunity to make referrals to those with needs to local podiatrists.
There are two ways you can show compassion in the Stand Down/Project Homeless Connect foot washing:
Donate new or gently used washcloths and towels. (We have enough socks, thanks to generous donors like Bombas!) All of these will be washed and used at Salvation Army after the event. If your group is interested in collecting items prior to the October 2 event, please contact Erica Johns at ejohns@louhomeless.org or (502) 636-9550 x214 to coordinate pickup.


We need volunteers to fill basins with water and help wash feet on October 2 from 8:30am to 2pm. You can sign up to volunteer any portion of this period by contacting Natalie Harris at nharris@louhomeless.org with your name, contact, and time you wish to volunteer.
If you would like to volunteer in another capacity, please contact Jami Anna Williamson (Community Employment Coordinator at the Robley Rex VA) at jamiannarose.williamson@va.gov or (502) 287-4177.
Thanks for your compassion and willingness to help.