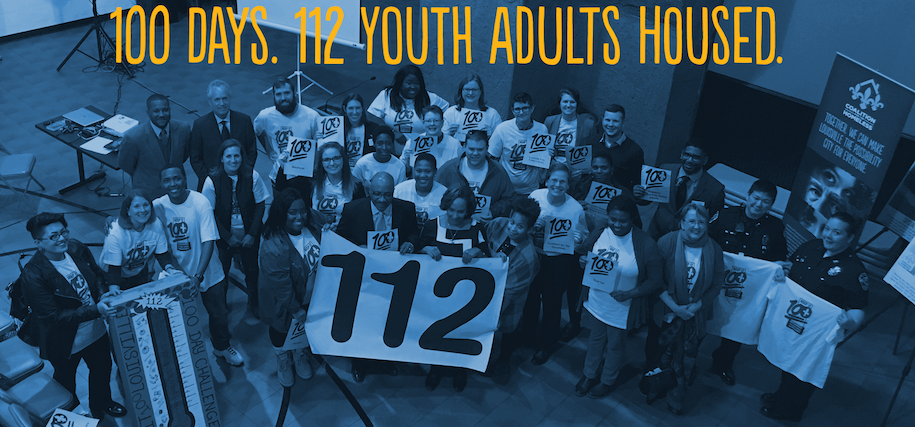 In 2017, the Coalition for the Homeless and our partners launched a new Rx: Housing initiative to end homelessness among unaccompanied young adults. 
Alarmingly, the Coalition noticed that, for three consecutive years, the number of homeless young adults in Louisville doubled annually, reaching a peak of 562 homeless young adults in 2013. In 2015, we counted 418 young adults aged 18-24 living in adult emergency shelter or on the streets, plus an additional 450 youth below the age of 18 served at YMCA Safe Place, our partner agency that exclusively serves youth.
On August 1, 2017, we became one of five cities in the country to launch the 100-Day Challenge to accelerate our efforts to end homelessness among young adults. At the end of the challenge, we were so proud to announce that we and our partners housed 112 young adults in just 100 days.
Using the information we gained and collaboration we employed during the 100-Day Challenge, we are pushing forward to end homelessness for the remaining homeless young adults by 2020.
There are many opportunities to get engaged and to assist us as we aim to end young adult homelessness—including our new Host Homes Pilot Project, for which we are actively seeking volunteers.
For more ways to get involved, please see the list below. And to read more about Rx: Housing Young Adults, including our plan to end homelessness among this group, click here.

MENTOR
Are you willing to spend time with a young person several hours each month?

HIRE
Can you commit to hire a young person and help them learn the basics of employment?
VOLUNTEER
Will you help provide food, day care or address other needs of local non-profits?
DONATE
Everyone can contribute large or small to a local non-profit working to serve homeless youth.
Click here to make a donation to the Coalition for the Homeless in support of our youth initiatives—you can choose "Rx: Housing" or "Host Homes Pilot Project." Here also are a list of all partner organizations, should you be interested in making a donation specifically to one of them rather than to the group initiative.
Thank you for your generosity toward homeless young adults in Louisville. It is only through the efforts of those in our community that we will be able to end the cycle of homelessness for these young people. To help in any other way, or with questions, please contact Natalie at nharris@louhomeless.org.