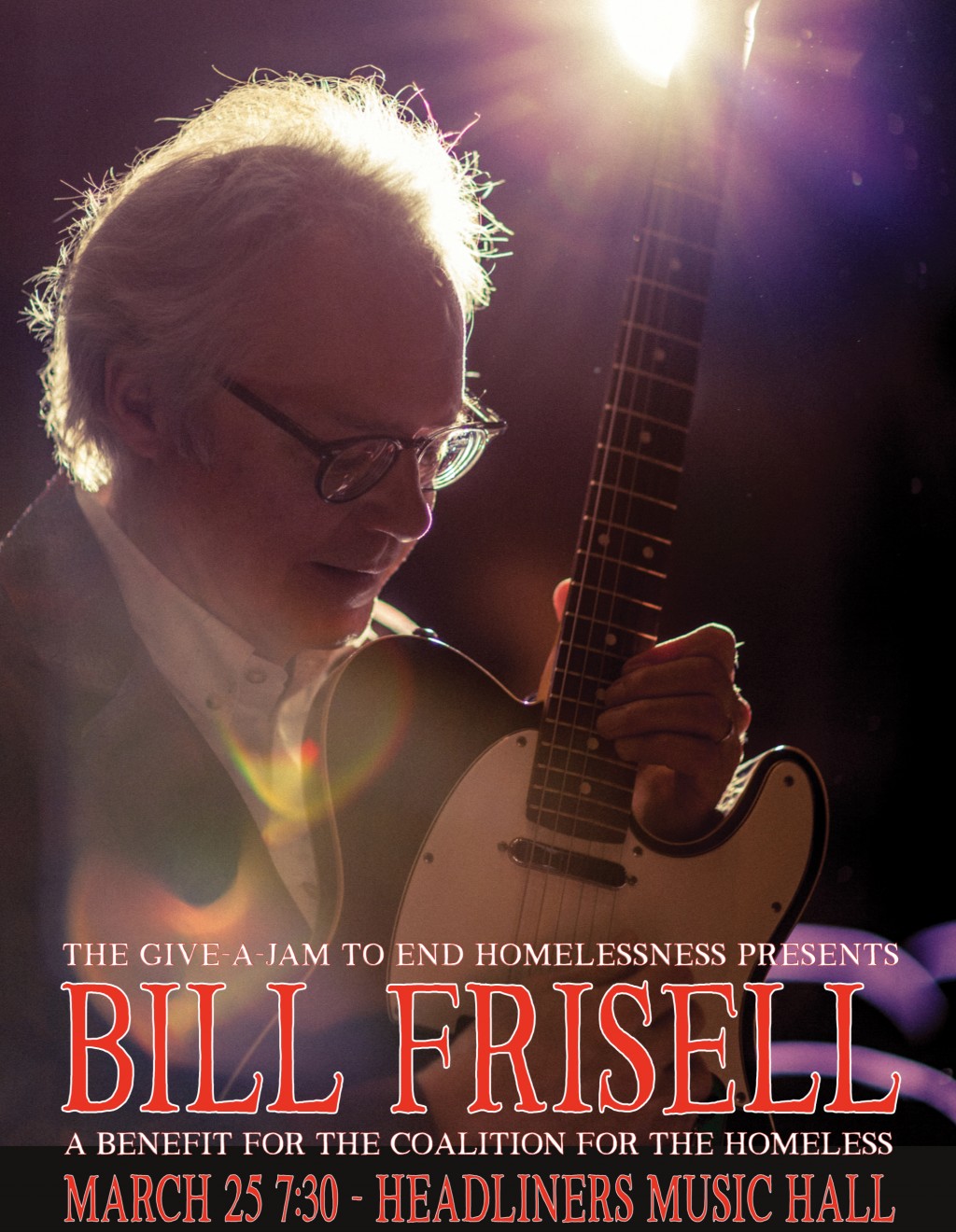 Buy Tickets Now!
Louisville, Kentucky (March 6, 2019) – For the second time in four years, legendary jazz guitarist Bill Frisell will donate his time and talents in support of the Coalition for the Homeless' efforts to end homelessness in Louisville.
Frisell, a winner of multiple Grammy Awards who was named Guitarist of the Year a record a 12-times in the Downbeat Jazz Critics Poll, will perform a solo concert at
Headliners Music Hall
on Monday, March 25 at 7:30pm.
Tickets are $50, and all proceeds will benefit the Coalition for the Homeless' "Rx: Housing" program, which is currently focused on eliminating young adult homelessness in our community. Tickets are available online at www.headlinerslouisville.com. Concertgoers can also purchase tickets in person and free of ticketing fees at Carmichael's Bookstores, either at the 2720 Frankfort Avenue location or at the 1295 Bardstown Road location.
Over the years, Frisell has contributed to the work of such collaborators as Paul Motian, John Zorn, Elvis Costello, Ginger Baker, The Los Angeles Philharmonic, Suzanne Vega, Loudon Wainwright III, Van Dyke Parks, Vic Chesnutt, Rickie Lee Jones, Ron Sexsmith, Vinicius Cantuaria, Marc Johnson (in "Bass Desires"), Ronald Shannon Jackson and Melvin Gibbs (in "Power Tools"), Marianne Faithful, John Scofield, Jan Garbarek, Lyle Mays, Vernon Reid, Julius Hemphill, Paul Bley, Wayne Horvitz, Hal Willner, Robin Holcomb, Rinde Eckert, The Frankfurt Ballet, film director Gus Van Sant, David Sanborn, David Sylvian, Petra Haden and numerous others, including Bono, Brian Eno, Jon Hassell and Daniel Lanois on the soundtrack for Wim Wenders' film Million Dollar Hotel.
This work has established Frisell as one of the most sought-after guitar voices in contemporary music. The breadth of such performing and recording situations is a testament not only to his singular guitar conception, but his musical versatility as well. In recent years, it is Frisell's role as composer and band leader which has garnered him increasing notoriety.
The concert by Bill Frisell is presented as an extension of the The Give-A-Jam to End Homelessness, an annual event that brings together musicians, artists, chefs, and others to raise funds to support the Coalition's programs. In its first eight years, the Give-A-Jam has raised more than $250,000 to support the effort.