Each January, the Coalition for the Homeless conducts a Street Count to verify the number of people sleeping outdoors in our city. We rely heavily on volunteers for this effort; the more we have, the more areas we can cover, and the greater our chances are of getting an accurate count.
The 2020 Street Count has been scheduled for Thursday, January 30, from 4:30-6:30am. Volunteers will meet at Hotel Louisville at 4:15am and come back after the count for a warm breakfast sponsored by Aetna Better Health of Kentucky and coffee provided by Heine Brothers' Coffee. There is also a mandatory training session for all volunteers the day prior, Wednesday, January 29, from 6-7pm (also at Hotel Louisville).
Please note these other important details:
Each Street Count team will have four people on it.
For the first time, you can indicate on this form which people you'd like to be on your team, and you can also indicate if you would like to be assigned to a specific neighborhood.
Also for the first time, we're using electronic surveys (rather than paper), so we are seeking volunteers willing to be electronic surveyors. Volunteer surveyors:

Will be assigned to every team;
Must use their own smart phone/tablet and location setting to complete each survey; and
MUST attend a training on Wednesday, January 22, from 6-7pm at Hotel Louisville.

In addition to surveyors, there are other volunteer roles available, such as completing an overall tally sheet, navigating the maps, and driving your team to the survey locations.
For the first time this year, we are inviting 16-17 year olds to participate in the count (not just adults 18 and over), but 16-17 year olds are required to have a parent or legal guardian present.
The Street Count is an annual Point in Time count that we must complete as a recipient of federal funding from the department of Housing and Urban Development. The count allows us to analyze changes to our homeless population over time and guides our decision making as we respond to the needs of those experiencing homelessness.
Please sign up to volunteer below. We will email you in mid-January to confirm details. For any questions, please contact Erin Rutherford at the Coalition for the Homeless at erutherford@louhomeless.org.
Thanks so much to our sponsors, whose generous support funds our Rx: Housing program to provide housing deposits and furniture for Louisvillians moving into new homes!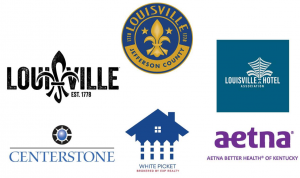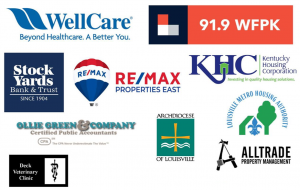 Frequently Asked Questions
Q: I can't come to the mandatory training session. Can I make it up in some other way? Can I get the information from a friend?
A: Unfortunately, if you cannot make the training session, you cannot come to the Street Count. During the training, teams and areas will be assigned, and there will be other critical information and materials provided.
Please note: if you're new and want more information to help you prepare, you can see the 2017 training PPT here: Street Count Volunteer Training PRESENTATION 2017. (Please note that there will be updates for the 2020 training presentation, and there is far more information covered in the training session than is represented here.)
Q: What will you do when you know the total number of people sleeping on the streets?
An accurate count is important because it helps our community plan how to best dedicate our resources to the most vulnerable Louisvillians. In 2019, we are working on ending homelessness among young adults—while keeping an eye on our street homelessness population, which is unfortunately growing. The Street Count is a key part of making sure we're reaching the right people.
Q: Why do you go out from 4:30-6:30am during the winter?
People often wonder why we go out so early. The answer is that it's the best way we've found to get an accurate count of people who sleep outside. People who sleep in camps often leave to walk around during the day and visit day shelters or other spots, so it would be hard to count everyone accurately otherwise. The logic for doing the count in January is that people who have other options do not sleep outdoors when the weather is extreme, and therefore we get the most accurate count of the most vulnerable people.