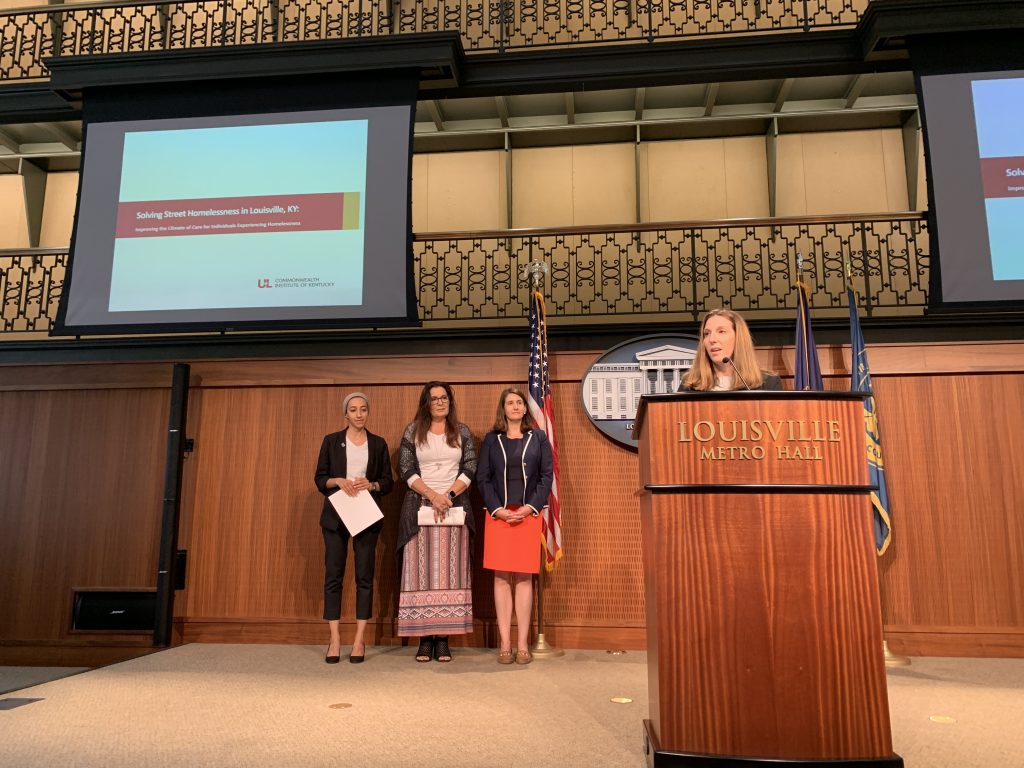 LOUISVILLE, KY (June 11, 2019) – Louisville Metro Government and the Coalition for the Homeless are releasing the results of a 5-month long assessment study outlining the process of applying best practices to Louisville's Continuum of Care (CoC), a process developed by HUD that helps communities across America address the problems of homelessness in a coordinated, comprehensive and strategic way.
The study was possible thanks to $50,000 in funding from Louisville Metro, and was conducted by the University of Louisville's Commonwealth Institute of Kentucky (CIK) and Cooperative Consortium for Transdisciplinary Social Justice Research (CCTSJR). These two organizations provide infrastructure for researchers to find solutions for complex social problems, and they have adopted a transdisciplinary research model that spans beyond traditional academia, recognizing that problem solving to promote community wellbeing requires expertise from multiple disciplines in partnership with the community.
As a community, Louisville attempts to address homelessness in a coordinated and comprehensive manner, using data to identify gaps in services and streamlining the use of valuable community resources. In the past year, new property developments and attempts to enforce community safety have displaced homeless camps, leaving unsheltered individuals to collect on downtown streets and under overpasses. In response, Mayor Fischer's Homeless Encampment Task Force engaged researchers from CIK and CCTSJR to support their work with the following specific aims:
To determine national best practices to address street homelessness.

To provide an assessment of the existing service system for individuals experiencing homelessness in Louisville.

To perform a gap analysis between Louisville's existing services and best practices, with recommendations on policies, practices, and funding, to aid Louisville in progressing toward reducing the number of individuals who remain unsheltered.
The study recommendations are outlined below:
Expand and evolve homeless services. Ensure individuals experiencing a housing crisis have access to the single point of entry system at all times. Reinforce the Housing First model and trauma-informed care within the Continuum of Care, such that a centralized case management team provides the accompaniment needed to navigate a complex system, resolve barriers, and move into and maintain a home.

Revise encampment policies. Expand policies to shift focus from clearing to providing needed services, including hygiene facilities and housing assistance. When clearances are required, ensure that campers not only receive notice of a clearing, but that they are required to be offered and assisted with storage and shelter options.

Offer multiple low-barrier shelters in locations throughout Jefferson County. To ensure everyone has access to shelter and feels safe, emergency shelters should be smaller, designed for specific subpopulations, meet ADA standards, and offer a staff to guest ratio that supports trauma-informed care. Emergency shelters should be used as a touch-point to link guests with wraparound services.

Improve collaboration. Resolving homelessness requires the participation of everyone. Communication and collaboration among service providers and across sectors is imperative.

Housing and community development. Prioritize affordable housing in Louisville, especially to meet the needs of households with income below 30 percent AMI ($25,100 for a family of four). As needed, revise zoning ordinances to achieve this.

Address root causes of homelessness beyond housing. Create policies to raise the minimum wage and revise policies that create barriers to employment and housing for individuals who have been in the criminal justice system.

Promote community education and engagement. Develop a comprehensive public awareness campaign that sets achievable goals, involves multi-sector participation, and is aimed at multiple audiences (individuals experiencing or at risk of homelessness, advocates and service providers, and the general public).

Evaluate the outcomes of new policies and programs.
"It's critical to recognize that homelessness is a result of a system that perpetuates discrimination and creates poverty. This study reveals that we must strengthen the connectivity between services and providers, as well as across sectors, and employ an approach of accompaniment, whereby our community meets individuals where they are and walks with them on the journey to stability," said Susan Buchino, PhD, OTR/L, assistant professor, UofL School of Public Health and Information Sciences, and research study lead from UofL's Commonwealth Institute of Kentucky (CIK) and Cooperative Consortium for Transdisciplinary Social Justice Research (CCTSJR).
"We are all aware that we have a homeless crisis in Louisville," said Natalie Harris, Executive Director of the Coalition for the Homeless. "This problem will only get worse through the proposed cuts to preventative services that are currently funded by Metro Government. We need the community to step up and demand that vital resources provided by the Office of Resilience and Community Services, the External Agency Funds, and Neighborhood Development Funds are preserved and expanded using the guidance outlined for us in the University of Louisville report released this week."
"We appreciate the hard work and collaboration among all of our partners, and especially the Coalition for the Homeless and University of Louisville," said Mayor Fischer. "It will take a united community to address the complex issue of homelessness."